Top emerging technologies for the future of marketing
A complimentary Forrester webinar
Artificial intelligence is a red-hot topic, and most martech and adtech vendors use AI as a keyword to pitch their capabilities. What's the reality behind the hype? And how will chatbots, voice-based intelligent agents like Amazon Alexa or Google Assistant, and augmented/virtual reality play a role?
Date and time:
Tuesday, November 28, 2017

10:00 a.m. ET
15:00 GMT
Duration:
1 hour
Hosted by: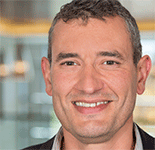 Thomas Husson
Vice President and Principal Analyst
Forrester
During this complimentary online event, Forrester Vice President and Principal Analyst Thomas Husson will help marketers at B2C brands understand the pace at which these technologies will scale in the coming years and how to embrace them. In particular, he will answer the following questions:
What are the key emerging technologies shaping the future of marketing?
How are leading B2C brands starting to take advantage of AI, chatbots, agents, and extended reality?
What should you do now to get ready?