Embrace automation to drive business technology innovation
A complimentary Forrester webinar
Automation technologies like artificial intelligence (AI), robotic process automation (RPA), and physical robots are reshaping the general workforce, and will reduce net human employment by 7%. Outcome-driven CIOs will use these technologies to help their company reconfigure its business model and reallocate resources to focus on the customer. Failure to do so will inhibit wide-scale digital transformation and give your competitors an opportunity to move ahead – without you.
Date and time:
Thursday, July 26, 2018
16:00 BST
11:00 a.m. ET
08:00 a.m. PT
Duration:
45 minutes
Hosted by: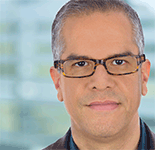 J.P. Gownder
VP, Principal Analyst
In this complimentary webinar, VP, Principal Analyst J.P. Gownder will help you understand:
The challenges that employees, leaders, and organizations face when implementing these technologies — and the skills necessary to succeed.
The four organizational competencies needed to drive business results.
How CIOs can assess their teams' readiness for automation with the Robotics Quotient.